I revel in work that I love doing - out in a paddock talking with a farmer about how he manages a variable and changing climate; in a sunny room in Africa hearing researchers talk simply about the implications of their work to a local journalist; or on the top or a mountain on Hinchinbrook Island with a team of researchers conducting flora or fauna surveys. I have worked as a science communication consultant since 1995 and no two days are ever the same. It's a job that combines my education and experience in science and journalism. It's work where I passionately strive to make a difference to people lives and the places they live in.
I am founder and director of Econnect Communication. Our company is a team of talented and skilled science communicators. Our vision is to 'bring science to life'.

Latest posts by Jenni Metcalfe (see all)
SUVA, 28 APRIL 2017 (FBC NEWS) — The Fisheries Ministry has recently introduced a vessel monitoring system to help in the surveillance of Fiji Exclusive Economic Zone.
This was highlighted by Fisheries Minister Semi Koroilavesau in parliament this week.
"Each vessel that is fishing within the Exclusive Economic Zone has beacons that are monitored by the Pacific Islands Forum Fisheries Agency (FFA) in Honiara. So vessel movements within its territory either it be Fiji or any other Pacific Islands is basically monitored and these reports are also given by the fishing vessels that are legally fishing to report any legal activity within their area of responsibilities."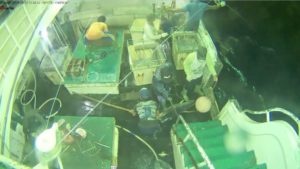 Koroilavesau says they also have observers in all licensed fishing vessels that carry out inspections while the boat is out at sea.
The Ministry also has an electronic system where units are installed on ships which make videos of activities on board.